As part of the Blue Circular Economy project, researchers at Scotland's Environmental Research Institute (ERI) are seeking to better understand and highlight the interactions between birds and various forms of debris, including discarded marine plastics. Though marine debris has affected at least 36% of all seabird species through entanglement, we still do not fully understand which birds are affected, or where.
Since the launch of the Birds and Debris website in July 2019, there has been a great response with over 250 submissions of anthropogenic debris incorporated into birds' nests, or entangling individual birds. These submissions have included over 50 different species, from all around the world, and will help researchers to determine which species are most reported and where, and which types of debris are most commonly involved.
However, work on the project continues and citizen scientists are encouraged to continue making submissions. By enlisting the help of as many people as possible, researchers hope to better understand the scale of the impact plastic pollution has on birds. Dr. Nina O'Hanlon, ornithologist at the University of Highlands and Islands' North Highland College, of which the ERI is a part, explains what sort of material is required:
"Photographs are particularly welcome, of nests and entangled birds, as these can be used to glean further information on the type and amount of debris incorporated into nests, and how birds are entangled. By recording details on the type of debris we can hopefully find out more about the source of debris ending up in bird nests, or entangling birds, and therefore in the local environment."
As Dr O'Hanlon says, the project will enable researchers to answer not just current questions, but also those which will arise in the future: "Not only can this help target actions to reduce debris in our oceans, and on land, but it can also be used to see how effective these actions are. For example, will improved port waste management facilities and extended producer liability for fishing gear help reduce fishery related debris in the ocean?"
If any of you birdwatchers or nature enthusiasts have had to restrict your excursions this year due to public health measures, not to worry – you may already have a wealth of useful material to hand: "Submissions can also be from any year. So far, the oldest image submitted is of Northern Gannet nests containing fishing rope on Sule Stack, Scotland from 1967!"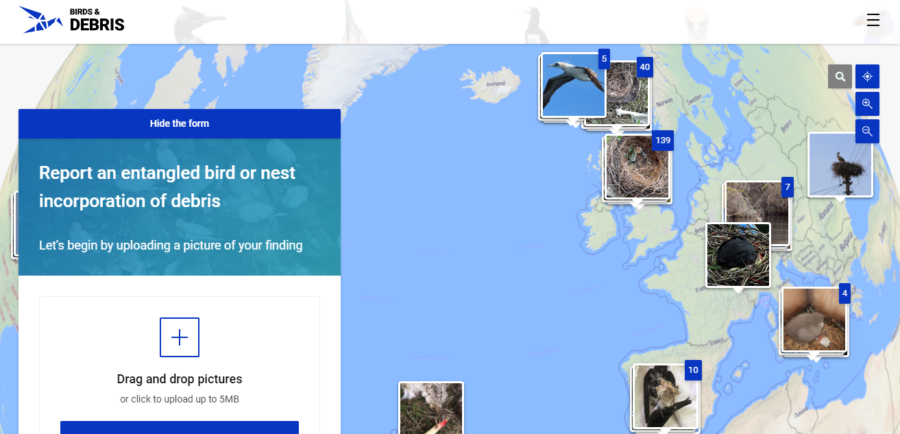 You can help with these investigations by uploading information for any bird species, anywhere in the world at https://www.birdsanddebris.com/. Be sure to check out the About the Project section for guidelines on how to gather images or other data in a way that is both responsible and safe for you and any wildlife you might encounter.
You can also see more evidence of the impact of marine debris on birds in our new video, and be sure to follow us on Twitter, Facebook, and Instagram to keep up with further news about the Blue Circular Economy project.